I walked through Meijers the other day and realized all the outdoor stuff is on super clearance and the backpacks are lined up on the walls. Crap! We have barely had a chance to enjoy our summer and now the pressure is on.
We still haven't gone kayaking or canoeing down the river. We still haven't slept in a tent or a cabin or even cooked breakfast over a fire. We've had a total of one — 1 — beach day so far this summer. Michigan summers need to be fast and hard or else we get stir crazy and insane when eight months of winter starts up.
As the work from home mom and official family vacation planner, it falls into my lap to schedule in some fun! I'm going to start a checklist in my bullet journal so I've got a list to plan our calendar from. We have a blended family so scheduling can be the hardest part of planning things. If we find a date that my husband can take off work, we also have to make sure that we have all our kids that day. If not, we have to see if we can work it out with their other parents, which usually means some sort of change or shift in the greater custody picture, which of course can't do anything to screw up all the other stuff we've already written in the calendar.  Luckily we all work together as a team fairly well so it goes just fine.
In the meantime, I feel like I need to do more fun things at home, as well. My boys don't really need me to make up fun stuff for them to do. They're teenagers, so they don't appreciate craft time the way my 8-year-old daughter does. My almost-two-year-old sings along to almost every single Sofia the First song, so we've been watching more than our share of Netflix this summer.
As always, I've gone to Pinterest for inspiration. I had some ideas on an old board I pinned some time in the past, and I found some new ideas. Check them out:
I think my girls would love this! The baby would probably just rip it apart, but she might get a kick out of it for a minute or two. My 8 year old, however, would probably enjoy it for a little while longer. 
I've been talking this one up for a while now. My daughter loves rocks and science experiments, so this is right up her alley. 
I love this idea! Since back to school sales are getting started, I could get a great deal on some Sharpies. I don't usually let my daughter color with Sharpies so any project that requires them appeals to her.
Now here is something I could do with my toddler, too. My older daughter is always asking to feed the wildlife around our house, but we've already got apple trees that we rarely harvest. We get lots of deer and other animals under those. Plus we have a rabbit who knocks over her dish every day, so we are already feeding lots of wild rabbits. At least this bird feeder will bring the birds closer to the window where Clara can watch them eat.
Here's a neat idea that would appeal to both of my daughters. I'm a little nervous about the food coloring staining my bathtub, but I suppose we could start with less coloring and experiment before putting the full five drops of food coloring in.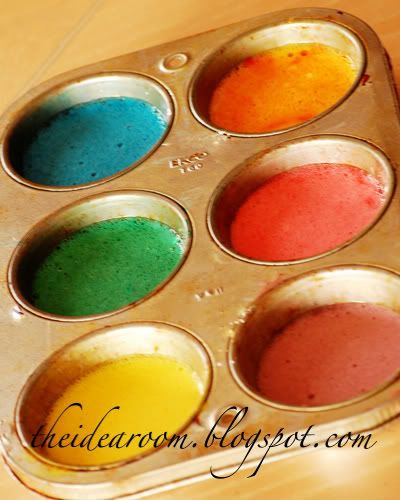 These will get us started! I literally have to schedule and preplan new activity ideas or else they don't get done. I always have chores or writing or driving or a billion other things to do, but I only get so many summers with my kids. I can't forget to add "make fun memories" to my to-do list.